10 Best Freelance Websites in India
If you are looking for 10 Best Freelance Websites in India / Home base data entry jobs In India without any investment ,then you will start earning today with these 10 amazing Freelancing websites list .
All sites are not Free , some of those sites charge commission or membership . And there are some sites absolutely free .
Some of these websites operate out of India, while others are global, but they're all open to handing over projects to Indians. Let's take a look at them.
#1 Freelancer
This is easily one of the best freelance job sites in India. It's based on the model of the immensely popular Freelancer(see below) and so you have to bid for the projects that suit your profile.
The number of bids you can make with a free profile is quite low, but, with a paid profile, you can bid more each month.
Also, the site has a desktop tracker app which logs the amount of time you work on a project in case you are hired on a per-hour basis.
Charges – Freelancer takes a fee of 20% of the total service fee. But, if you get on the Preferred Freelancer program, the percentage drops to 15%.
#2 Upwork
Without a doubt, Upwork is a site which has one of the highest number of projects on offer in the world. Most of the work can be done remotely and tracked through the mobile and desktop apps.
Upwork is actually a great place to find freelance jobs for beginners in India as it offers work in a number of categories, including writing, coding, and design.
What's more is that the payments are always secure and the site's time tracking software lets your clients know how hard you have been working for them.
Charges – Upwork charges a fee of 20% of the billed amount, but this can be reduced to 10% when you bill more than $500 to a single client.
Rockerstop Is One of the Best freelancing site In India Because Its Free to access and no Commission. This site don't charge any commission for project or signup or to receive jobs.
Just you can directly call or message to your clients, that other sites don't allow out side communication. But in Rockerstop its possible to Communicate out side of the site.
So you can approach your clients directly any time from anywhere in any place like ( messages, whatsapp, Email, Facebook messenger and lots more ) that is absolutely Permitted only in Rockerstop. It works as a ppl ( pay per click ) model. Its charges are very less than other websites.
One lead only 10 INR . So you can buy 10 leads for 100 INR only. Its so cheap that you will be happy to spend for your business to grow.

Freelance works in India now can be availed using several websites online. All you need is to sign in as an employer or employee in site like Freelancer India.
If you are looking for freelancing job then Signup here, and also looking to Hire Freelancer Post Your Job Here.
Also, if you are an employer you can do freelancing projects in India mainly by posting your project online in a trusted website.
These websites are easy to find online and there are a lot of them. This may leave you confused. Therefore you need to opt for any site among top 10 freelance websites.
There freelancers will bid for your projects with a convincing proposal. You can then select the best candidate for your particular job.
From there on the website provides with messaging service where you can contact and guide the freelancer throughout the project.
#4 Guru
Guru is another popular freelancing website with over 3 million registered freelancers.
The site has been up and running for the last 20 years, which is proof of its credibility.
Jobs from multiple industries, including digital marketing, sales, administration, legal, and engineering, are available.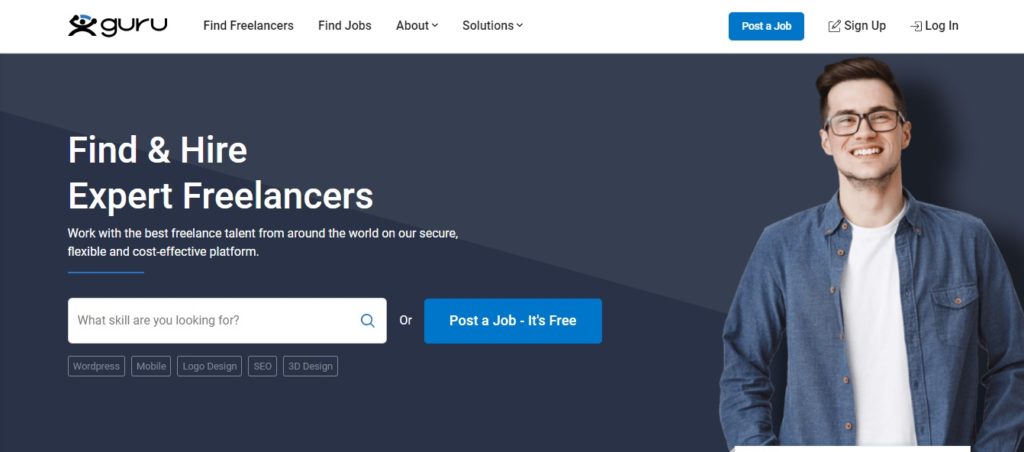 Charges – Guru charges 4.95-8.95% transaction fee, depending on your membership level.
You can join and apply for jobs for free, but you'll then only be able to make 10 bids per month. If you want to make more bids, then you can opt for the tier-based paid memberships, starting at $8.95 per month and reaching $39.95 per month.
A paid membership will not only provide you with more bids, it also offers a lower commission fee and other premium features, such as search boost.
#5 Fiverr
Fiverr is a great option as it's one of the best freelancing websites offering a lot of jobs for Indians as well.
There are a lot of categories that you can get work in and the payment is always secure on this platform. In fact, it's the world's largest marketplace for digital services.
Charges – Fiverr charges a fee of 20% to use the platform.
#6 People per Hour
People per Hour is a hugely popular place to get projects and it lays a lot of emphasis on projects that pay per hour.
While it may sound like it would lead to a lot of confusion, the website has something called a Workstream which keeps a track of all the work you have done so that there is no cause for any disputes!
Charges – The site has a variable fee structure which depends on the amount of work you do, ranging from 5% to 20%.
#7 Ilmosys Studio
If you're a designer, developer or digital talent, Ilmosys Studio is one of the best websites to kickstart your freelancing career in India.
It has a very clear working guideline and the best part is that it gives you the freedom to decide how many revisions you want to allocate for a project.
In this way, you don't get lost in the endless web of changes. The site's dispute resolution centre is also extremely efficient.
Charges – Ilmosys takes a fee of 20% on each project that it enables.
#8 The Flexiport
If you're looking for freelancing websites in India, Flexiport is one of the newer and different sites you can try out.
The site basically works as an outsourcing agency and connect freelancers with enterprises which want projects done.
Moreover, Flexiport has a blog where you can pick up tips on how to get freelance jobs in India and the website offers the clients the option of managing the entire project, which means that the briefs and feedback you receive become much better!
Charges – Flexiport offers free and premium memberships for 400 in three months. But, it doesn't charge a commission fee.
#9 Dream Starts
Startups generally don't have the funds to hire people full time and so they're always on the lookout to hire freelancers.
Dream Starts offers them a place to hire freelancers in India, which is why it's a good idea to sign up with them as you'll be able to get in touch with startups which have some interesting projects on hand.
Charges – Dream Starts is a completely free service that anyone can use.
#10 Truelancer
Do you have an incredible idea or solution? Then Truelancer is the site for you as it has a conventional portal where you can find freelancer jobs in India and it gives you the option to post your services for firms to hire!
You can also use Turelancer through an app to ensure you never miss any job postings, even when you're on the go. This feature makes it one of the best freelancing sites in India.
Charges – Truelancer takes a cut of 8-10% of the billed amount, depending on your membership. You can find more membership on this site/upgrade area.
Now a days people are more likely to do freelancing rather than 9 to 5 job , These top 10 Best Freelance Websites in India are becoming so popular after coming JIO in market . Till 2020 to 2025 Freelancer ratio will Increase to 35% to 40 % more
Hope you have found your relevant result with these 10 Best Freelance Websites in India List . Please like share and comment : )